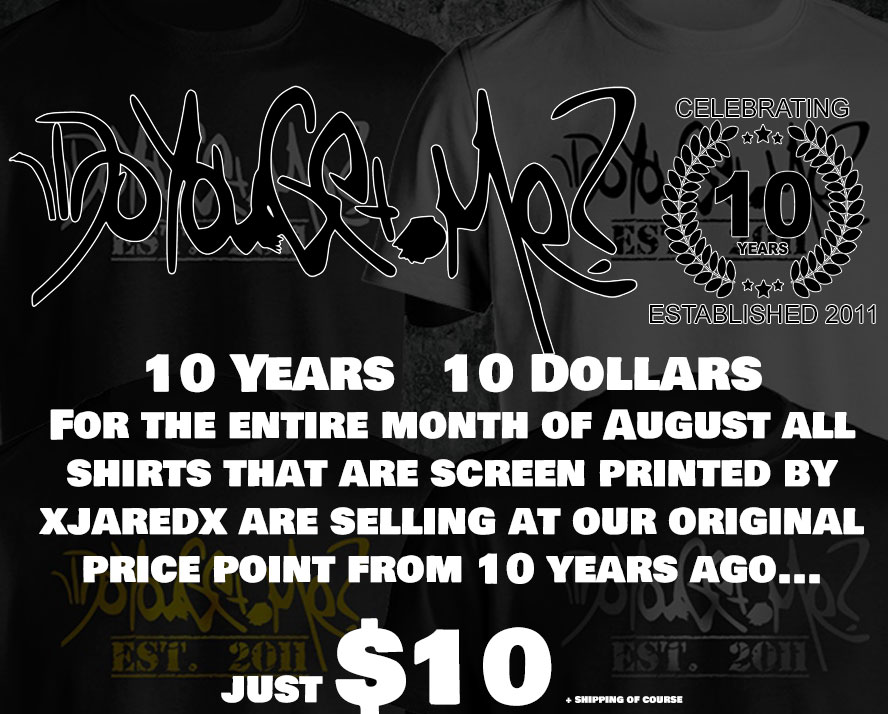 Established August 2011, DoYouGet.Me? was born with a desire to have a clothing line that not only represented me as a person but also represented that subtle nod when someone likes your shirt stating "I get you" and also trying to sell that shirt at a low cost.
Short background is that DoYouGet.Me? was born out of this idea sitting around a coffee table. We had very little money and no equipment. We had a few designs to start with and were trying to find screen printers to print them. My goal at the time was to sell each shirt for $10, but screen printer after screen printer laughed at me and said that's not possible without a very large order and a lot of money up front for printing. After being laughed at again and being told "good luck no screen printer is going be able to do small orders for less than $10" we started reworking some of the designs and made our own stencils. So for the first year or so DoYouGet.Me? shirts were printed "RAD Style" (look up the movie), cutting out stencils and either rolling the ink or using spray paint on the shirts, selling them for $10 a shirt.
After doing that for a while, I really wanted a better way to do it so I, still with very little money, I started with a small Plaid screen printing kit. This taught me about photo emulsions and exposures to burn in an image. So with those Plaid screen sheets (yup sheets, no frame), I started my screen printing adventure by hand placing them on the shirt and squeegeeing the ink on to the shirt, using a heat gun and my kitchen oven to cure the ink. Over time I wanted to use real screens, but screen printing screens are not cheap, and neither are carousels. As a result I became creative in creating/building my own screens. This consisted of using 2×2 pieces of wood from Home Depot or even more easier, using wooden canvas frames from Michaels, removing the canvas and hand stretching and stapling chiffon (also from Michaels) onto the frame, then filing the screen with photo emulsion and using a cardboard box as my darkroom. Even with the cost of the emulsion I was able to bring my cost down from $24 a screen (speedball screens) to $3 a screen. These screens would allow for 8.5×14, 11×17 or even 13×19 images to be burned on them. I was able to find a FedEx Office at the time that had the ability to print 11×17 transparencies and even 13×19 prints on thin white paper. Then I used a 500 Watt flood light from Walmart and propped it onto a raised surface like a desk or now a folding chair to expose the image. Then using my kitchen sink or bathtub washing out the image. Overtime these skills/tricks changed slightly. I now own an Epson WorkForce Printer that can print my 11×17 (or 12×18) transparencies. So per burned screen, the hard costs are typically only about $5 a screen as opposed to $25 to $50 a screen some screen printers charge as a screen or set up fee.
Next in order to keep my inventory low and have the ability to "print per order" I waited till orders came in to get the blank shirts. These would typically come from Michaels as well, since they had Gildan shirts for about $3.33 a shirt. Depending on the color of the shirt and ink I would use water based speedball inks that I would also get from Michaels. These two also evolved in finding online suppliers for blanks (Clothing shop Online, Shirt Space) as well as water based and plastisol inks from Screenprinting.com as well as ScreenPrintDirect.com.
And to this day with the shirts that you order from DoYouGet.Me? (oh yeah I built the website myself too and manage it on my own servers) your shirts that are categorized as "Screen Printed by xJAREDx" are really just that. They are inspired by me and who I am, designed by me, burned into screens by me that I built, hand pulled (printed on to the shirt) by me, and sent out by me….DoYouGet.Me?
So why am I telling you all of this? I am sharing this with you so you know that when someone tells you, you can't do something prove them fxcking wrong! And for the entire month of August, 2021 all of the shirts Screen Printed by xJAREDx are on sale at the price point we started out…just $10 a shirt (+shipping).
Thank you for celebrating with us,
xJAREDx
Founder, Owner, Designer, Screen Printer
DoYouGet.Me?